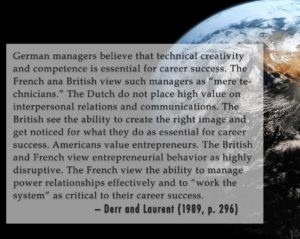 So how do you measure effectiveness for a Global Manager? It will depend on where you are and who is around you… For most great corporations' effectiveness includes four major factors: management and leadership, interpersonal relationships, knowledge and initiative, and success orientation. This set of performance indicators captures to some extent the various lenses of effectiveness: ambition and entrepreneurialism, technical creativity, collaborative relationships, interpersonal skill, and the ability to manage power relationships.
(from the book: "Success for the New Global Manager" – Center for Creative Leadership (CCL))
This is a 2002 book, and efficient global management for a "real global economy" was a skill companies were starting to pursue, cultural adaptabilities (local laws and customs) were still an invisible barrier some fail to give the necessary attention/respect.
In managing across cultures, you must take into account the complex interactions of norms, beliefs, values, and attitudes that distinguish one cultural group from another — there is no "one best way" of doing things.
#leadership #management #globalmanagement #performance #culturalintelligence